All-Natural Solution To Eliminating Cancer Fatigue
Cancer does not just affect your body, it can also affect your mind and many people will experience significant changes to their emotional health.
Mental health has a direct correlation to cancer survivorship.
When you find out that you have cancer, it's a lot to take in. Receiving a cancer diagnosis could be difficult to cope with. Many people experience feelings of shock, fear and confusion. You may feel a flood of emotions, such as disbelief, fear, and anger.
​
It's natural to feel loss after receiving a cancer diagnosis. At first, the thought of living with cancer and treatment can be overwhelming. Some might even feel like giving up hope. Having a support system is an important part of dealing with emotions. It's also important to have a supportive health care team who will work with you during and after treatment.
​
Sharing a cancer diagnosis is also not easy. You may worry about how cancer will change your way of life and how it will impact family and friends.
​
Dealing with the emotions and beliefs of other people about cancer can also be challenging. For example, those closest to you might worry about losing you. They may be concerned about how the changes in your life might affect them. It can be hard to deal with the fears of others while you are facing your own.
​
Sometimes people are not sure what to say when they learn you have cancer. Even as they try to offer support, some might say or do things that hurt your feelings or offend you. Some people are uncomfortable thinking about the possibility of cancer in their own lives. Because of their own fears, they may not know the best way to help you with your illness.
​
Emotional Toll of Cancer
Cancer-related fatigue (CRF, sometimes simply called "cancer fatigue") is one of the most common side effects of cancer and its treatments. Many people who are chronically ill feel tired. But cancer-related fatigue goes beyond the usual tiredness. People who experience cancer fatigue often describe it as "paralyzing." Usually, it comes on suddenly and is not the result of activity or exertion. With this type of fatigue, no amount of rest or sleep helps.
​
Feelings of depression are common when patients and family members are coping with cancer. It's normal to feel sadness and grief. Dreams, plans, and the future may seem uncertain. But if a person has been sad for a long time or is having trouble carrying out day-to-day activities, there is reason to be concerned.
​
Depression can be mild and temporary with periods of sadness, but can also be more severe and lasting. The more severe type is often called major depression or clinical depression.
​
Major or clinical depression makes it hard for a person to function and follow treatment plans. It happens in about 1 in 4 people with cancer, but it can be managed. People who have had depression before are more likely to have depression after their cancer diagnosis.
Written by Harriet Lheisa. on November 30, 2021
⭐⭐⭐⭐⭐
"Never once after taking Mighty Mood was I overwhelmed or fatigued. Of course there was sadness, but there wasn't the usual stress and anxiety that plagues my mind. The only way I can describe it is, it kept my thinking and my mind centered. No crazy emotional swings, just clear and rational thinking. I've been taking them for over 6 weeks now and the clarity continues."
Suzie Reinbach
Dallas, Texas
⭐⭐⭐⭐⭐
"I haven't in a month had bad anxiety no depression at all, when I get stressed out I usually have adrenaline pour into my stomach but nothing like that has happened in a month and I've been under high stress! You can still get stressed but you feel like you can handle it which means everything to me."
Alex Woo
Atlanta, Georgia
Importance of Mental Health Care in Cancer Patients
In patients who have historically struggled with mental illness, cancer may exacerbate already existing issues. A cancer diagnosis may also cause symptoms of a mental health disorder to emerge in those who have not previously experienced mental illness. Most patients can be expected to experience some impact on their mental health due to their diagnosis (eg, sadness, worrying), but some may develop a mental health disorder such as anxiety, depression, and/or post-traumatic stress disorder.
Emotional distress and mental health disorders can have profound impacts on patients, beyond their emotional and mental wellbeing. Research has shown that cancer patients with mental health symptoms have poorer health outcomes, including decreased adherence to treatment. One study showed increased mortality rates in cancer patients who developed a psychiatric disorder after the cancer diagnosis, which highlights the importance of early recognition and treatment of mental health symptoms.
An average of 30% to 35% of cancer patients suffer from a psychiatric or neuropsychiatric disorder, with variance among the stages of cancer. Studies also show that mental health issues are minimized in the cancer care field, as professionals may misidentify mental health symptoms (hopelessness, helplessness, suicidal ideation, excessive worrying) as normal emotional responses to a cancer diagnosis, which may lead to patients not receiving the treatment they need.
Many professionals are wondering whether mental health treatment can change the course of cancer and there is good reason to believe it could. Managing the psychological effects can be key to ensuring longer survivorship and increased rate of complete Researchers have suggested the need for routine mental health screening in oncology settings.
​
Corra Cruz, Breast Cancer
Corra, 37 year old office administrator, fell into depression when she was diagnosed with breast cancer.
No one in her family has had a history so it came as a surprise for her and her family. "It was a lump on my boobs that I initially thought nothing about, but my brothers all pestered me to get it checked until I got it checked. I thought it would amount to nothing and only got tested to get them off my back. Thank goodness for them that we caught it earlier before it's too late to remove," Corra said.
"It became too much and I retreated to a shell. Even still, my mom forced me to go to my chemotherapy sessions, eat 3 healthy meals a day, and take Mighty Mood to improve my mood. After about a week or so, I noticed that I had more energy and I didn't feel as sad as before. Because I wasn't constantly feeling so bad, I started opening up to my sisters and my mom and it started to really help. "
Samantha Grethel, Uterine Cancer
​
Early into her marriage, Samantha Grethel, 42-year-old veterinarian, was diagnosed with uterine cancer after consecutive bouts of UTIs.
​
"I was shocked to my core. It was devastating to know that I'll never have children," Samantha said, "But I was blessed with a partner who's so supportive and understanding. It would have been my downfall if my partner hadn't been as amazing as he is."
Of course, not everything was roses and feather beds for Samantha's cancer treatment. "It took me a long time to come to peace with my diagnosis. Months went by when I didn't leave the bed, not even for treatment. I felt that my life was over," she said, "Mighty Mood couldn't have come to be a better time. Mighty Mood really helped pull me out of my wallowing and sadness. It helped me look at everything with a new perspective and gave me strength to fight."
⭐⭐⭐⭐⭐
"Fabulous! Brought my TSH levels down to almost normal without needing to take big pharma meds that cause all sorts of side effects. Did my anxiety and stress levels a huge favor to! Have hypothyroidism? USE THIS!"
Trish Fernandez
San Diego, California
⭐⭐⭐⭐⭐
"High quality, clean feeling, it's been close to a month now that I've been taking it as suggested and I really can tell a difference. Perhaps it was the last piece I needed to my existing regimen of vitamins, aminos, mushrooms and minerals, and it would be hard to say without doing an elimination test for each, but I am very satisfied and will continue to purchase! Thank you!"
Troy Burton
Washington, DC
Ben Cabanne, Thyroid Cancer
Ben knew there was a chance that he'd have thyroid cancer. His dad had died from the same illness after a long and hard battle for his life. "On one hand, I was kind of expecting it, but on the other, it was still a blow that I didn't know if I could recover from it. I saw my dad languish and really become a ghost of who he was before cancer. I was terrified that was going to be me. Looking back, it's like my dad gave in to depression and gave up. I was going to do my absolute best to hold on. After all, I have 2 kids to look after."
​
Depression, anxiety, and low energy levels still affected him even with his mindset. He tried to fight it, but the toll of chemotherapy as treatment and the overall state of his body made it difficult. The added stressors and overwhelming changes are unfortunate. It's a good thing that he was able to find Mighty Mood as a solution to improve his mood and stress.
Why Mighty Mood
Hundreds of cancer patients suffering from mood disorders have found that Mighty Mood elevated their calmness, happiness, and lessened their stress levels.
Mighty Mood's 9 adaptogenic herbs have been clinically demonstrated to naturally decrease cortisol levels and increase mood. This can aid in the management of mood and mental issues in your life. Mighty Mood is dedicated to offering superior mood-boosting, anti-stress, and adrenal support.
Mighty Mood is loaded with vitamins and minerals that have been shown to increase the efficacy of antidepressants and alleviate depression symptoms. It also contains Vitamin C, Vitamin B6, and L-Tyrosine, which has several health advantages in addition to regulating chemical imbalances in the brain.
Vitamin C strengthens your immune system and fights infection, keeping you healthy and preventing illness. Vitamin B6 is well-known for its ability to reduce anxiety and improve mood. L-Tyrosine increases your stress management by sharpening your mental ability during stressful occasions.
Mighty Mood's natural formulation rapidly soothes stress and anxiety. It naturally induces a happy mood. L-Tyrosine and L-Theanine can help with stress and anxiety. Ashwagandha improves mood by quickly relaxing the mind.
How It Works
Ashwagandha root, acerola fruit, astragalus root, panax ginseng, licorice root, Holy Basil leaf, suma root, Rhodiola rosea, and Eleutherococcus Senticosus Root all improving mood, increasing energy, boosts immune system, eliminates stress, and many more!
​
Other benefits include eliminating anxiety, alleviating arthritis and fibromyalgia, soothing stomach pain, preventing cancer, even reversing wrinkles and age spots!
​
Ashwagandha Root - This ancient herb reduces stress hormones while getting rid of insomnia, arthritis pain, and gastrointestinal issues. Studies suggest that ashwagandha alleviates depression & anxiety symptoms.

Acerola Fruit - Full of Vitamin C and A, preventing free radical damage and illnesses. Many researchers agree that acerola treats depression.

Astragalus Root - Fights off stress while keeping skin clear and preventing wrinkles and age spots. Astragalus is the most important drug used to treat depression in Chinese traditional medicine.

Eleutherococcus Senticosus Root - Combats fatigue and improves physical performance.

Panax Ginseng - Fight tiredness and increases energy levels

Rhodiola Rosea - Anti-stress, anti-fatigue, and anti-cancer

Suma Root - Eliminates high level of cortisol and eases chronic inflammation

Licorice Root - Removes stress and soothes stomach pain

Holy Basil Leaf - Tackles stress and anxiety while alleviates arthritis and fibromyalgia

Bioperine - Increases body's absorption of nutrients and improving mood and memory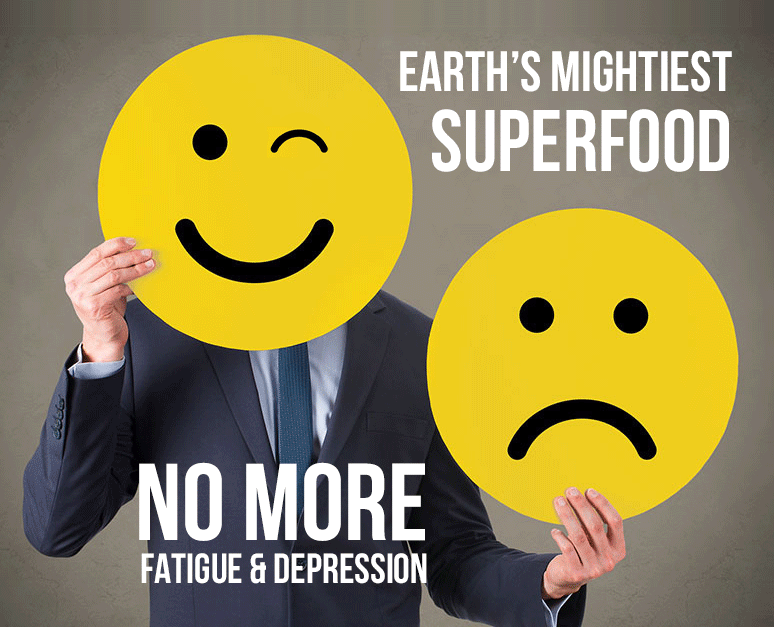 Here's What Customers Are Saying…
⭐⭐⭐⭐⭐
"I suffer from depression and anxiety, if I feel it coming, I take these, and I'm good. Of course it's not going to cure my past, but it sure does help think logically, and it mellows me out.. I tend to take it before bed. Been taking it for a month now, and I will continue to purchase.. I always get bad emotional pms, that is what led me to purchase, I will tell you, it helps. It really does. I don't know how I was managing before, I wasn't.. but now I'm able to, naturally.."
-Maxine Randell
​
⭐⭐⭐⭐⭐
I am currently on medication for anxiety but was still experiencing pretty severe panic attacks. I haven't wanted to get on any sedatives because of my history of drug use so I started to look for natural alternatives. I knew I wanted to try Ashwagandha but wanted to make sure I was buying it from a safe source. I've currently been taking Mighty Mood for 3 months and needless to say I keep buying it! Obviously it's not going to "cure" you right away. But when you get your body the right tools it can start to heal. My anxiety has been minimum and I have been pleasantly surprised with my energy levels. I'm a mom of two young kids and I am so grateful I have found something healthy that helps my mind and body!
-Rosie Fowler
⭐⭐⭐⭐⭐
"After doing some research, I had tried several brands of ashwagandha. I have found this brand works the fastest and best for me. After only 3 days of taking this, I noticed a definite change for the positive in my overall stress level....much less depressed, more tolerant, able to get and stay asleep and I had more energy. I would definitely recommend Mighty Mood."
- Victor Glendale
​
⭐⭐⭐⭐⭐
"Great product! I've always been a fan of Ashwaganda and have been taking it for years, however, I was looking for a cleaner and more pure product and stumbled across this supplement while browsing other brands. It does a great job stabilizing mood and easing anxiety."
-Gwyneth Buttonne
​
Complementary Healing
Clinical depression is typically treated with psychotherapy and medication in Western medicine. If those treatments aren't working, then it might be time to try to add complementary therapies. Many patients with depression vow that complementary
healing is helpful.
Although modern-day western medicine has made many excellent and life-saving advances, one of its drawbacks is its siloed approach to health, which looks at the body in bits of individual symptoms and parts rather than as the entire entity it is.
This is why holistic wellbeing is so important, in order to achieve true optimal wellness in the physical, emotional, and spiritual senses, we must see and respect the body as the amazing network it is.
Rid yourself of toxins, side effects of pharmaceuticals, and ineffective treatments.
Adults diagnosed with cancer and other chronic illnesses, the "risk of psychological disability" is nearly six times higher than for adults not living with cancer. Moreover, population-based data indicate that adult cancer survivors are more than twice as likely to have "disabling psychological problems" as adults without cancer. Among long-term cancer survivors, depression and anxiety are the most commonly diagnosed psychological disorders
It would be an understatement to claim that alternative medicine and holistic health is essential.
​
Power of Mighty Mood
Many have sworn by Mighty Mood. Ninety-six percent of Mighty Nutra customers said that they felt calmer, lighter, and less stressed after a month of taking Mighty Mood twice a day.
​
Some of the other benefits of Mighty Mood don't just include helping with depression and anxiety but also the following:
​
Balances stress hormones

Fights fatigue and boosts energy

Eases insomnia

Induces restful sleep

Treats gastrointestinal issues

Aids weight loss

Reverses skin aging

Alleviates arthritis

Boosts immune system

Anticancer properties
Mighty Mood is now available worldwide. With this global release, Mighty Mood is currently on sale for up to 20% off. For readers to place orders, a secure website has been set up.
This offer won't last for long so make sure you follow the link below to Claim up to 20% OFF + FREE shipping!
Check with your healthcare provider before you start using Mighty Mood to make sure there are no drug interactions with your specific antidepressants or other medications.